Some attacks on Palestinians by fundamentalist Israeli settlers have made news even in Britain.  But the extent and viciousness of these attacks is often underplayed.  A recent report "When Settlers Attack" gives a disturbing picture and debunks some myths.  Given the long-standing twinning between Dundee and Nablus, it is particularly concerning that the most violent and frequent attacks are now focussed on villages around Nablus.
A young mother visited Dundee in 2005.  When a delegation from Dundee visited her in Burin they could see from her verandah the two Israeli settlements on the nearby hilltops.  To the north is Bracha and to the south is Yitzhar.  The report lists Burin as "extremely vulnerable" and names these two settlements as the source of arson attacks, destruction of property and physical attacks.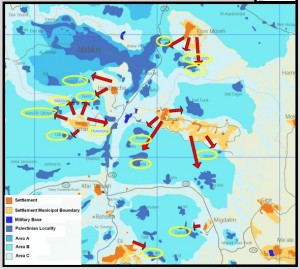 The report is well illustrated with maps, charts and clear recommendations for Israel, the USA, Palestinians and journalists.  In particular, it asks for Israel to investigate and prevent such attacks.  The USA should press Israel to fulfil its legal obligations and ensure that no US money is being used to fund Israeli settlements.  Palestinians are recommended to do what they can to inhibit such attacks while  journalists should avoid use of the term "price tag".  These attacks are not a consequence of Israeli action but represent a failure of Israel to uphold international law (by which settlements are illegal) and a failure to prosecute or deter settler violence.
Well worth a read.