As the year draws to an end we at Lajee Center would like to take this opportunity to thank all our friends around the world for your generous donations, and for your time and commitment to our center and to Palestine.
As a result of your wonderful support, we are today much closer to realizing our children's dream of having a safe place to play. Through your donations we have managed to purchase 65% of the land adjacent to LajeeCenter and the area, although still incomplete, has already become an important community space for the children, youth and their families in Aida and the neighboring communities. Together, we have managed to create a place where people can go and feel safe and to escape the harsh reality of life under occupation for a little while. We are delighted with the progress and are happy to share with you some attached photos of how the area looks today.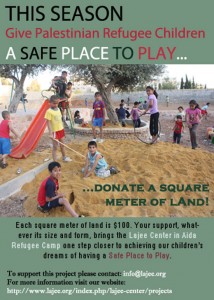 In order to complete the project we are now launching a social media campaign to seek global support from people around the world who believes in the need to defend the rights of children. We are asking for your help to share the attached flyer on Facebook and through any channels you can think of. Together we can help our children to play in peace, to run, smile, and to dream.
Each square meter of land costs about $100 and every square meter that we can secure brings us one meter closer to completing the project and achieving our children's dream of having a Safe Place to Play.
Again, thank you for supporting our organization, it is truly valued and appreciated. Your support has repeatedly played a key role in LajeeCenter's work and has made it possible for us to continue our mission of working for the children of Palestine, human rights, and freedom.
Sincerely,
Lajee Center